UL senior students will graduate in summer 2021 and enter into the work force.
Different from previous years, the impact of the pandemic has exacerbated the challenges they face after graduation.
A small number of students elected to take a "gap year", while others re-enrolled in their junior year.
"When I graduate, I plan to partake in a graduate scheme, consisting of 1 year of working with a company with the goal of learning enough to become proficient in my field." UL Senior Computer Security student James Duffy said.
"It is hard to find a job in this time as many companies have let employees go due to COVID," he added.
Most of UL's Arts students said that it is more difficult for them to find a job than science students.
"There is a definite feeling of trepidation about the future. With the current situation, a stable or assured career after graduation is something that seems unlikely. Any plans made for the future are now put on pause indefinitely." UL Arts student Shane Toohey said.
"My plan when I graduate is to hopefully spend time working in Japan, improving my Japanese and earning money. After that I want to go to Saudi Arabia for one year and teach English. When I have finished that, I would like to do a master's either in Japan or maybe in France." UL Senior Applied Linguistics student Amee O'Connor Berkery said.
"I think getting a job when I graduate will be extremely difficult. COVID has made things extremely competitive and there are less positions available. I'm very nervous for the future but I hope things will get better." She added.
At time of going to press, the unemployment rate in Ireland is hovering just over 7%, as per the Central Statistics Office.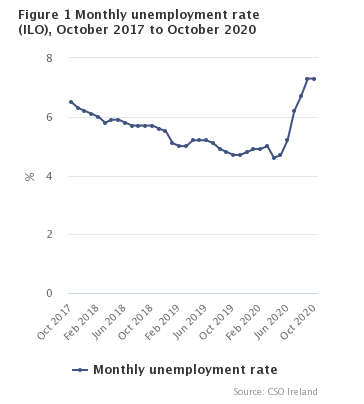 "When I graduate, hopefully I will land a graduate role at some company in some finance role, if not I will continue my academic life as an university student." UL Senior Business Student Shirly Liu said.
"I also thought about travelling the world if I don't get a job, but due to Covid I'm having some doubts about that plan." She added.
"I think it'll be very hard to find a job since many companies are still trying to recover from Covid," UL ITD student Carl Stevens said.
"When I graduate I will try really hard to find a job, I'll take anything I can get." He added.
International students and local students have different views on the problems they will face after graduation.
Some international students had planned to stay in Limerick or go to the capital after graduation, but the outbreak has changed their plans. Some have decided to return to their home countries, while others have insisted on staying.
"I want to find a career where I can work from home. I can't find the job that I want if I return to China. It would be better to find a full-time, permanent contract that pays €27,000 a year. What is that job? I haven't decided yet." UL international MA business stuednt Xianghua Mao said.
While positive news of vaccines has given some people hope, the stories of economic and human hardship stemming from the virus are yet to be written.