Anytime of the Month founder Clodagh Guerin has launched its Workplace Ambassador Programme to alleviate the effects of period poverty in the workforce.
Period poverty occurs when the purchase of sanitary products puts a financial strain on a person. One of the main reasons why period poverty can be dangerous is because it may cause health implications such as Toxic shock syndrome.
Statistics show that 75% of women today have experienced period poverty. This means that if you look at a workforce of 20 women, at some stage before they retire, 15 of them will have suffered some form of period poverty.
Anytime of the Month (ATOTM) is a student-led social enterprise within the Enactus UL network. The project was established to fight against period poverty through a network of friendly strangers.
The Workplace Ambassador Programme is focused on eliminating the stigma around periods, reducing period poverty and maximising the understanding of menstrual health.
This programme includes a range of packages, from silver, gold and platinum, to support a period positive workforce, with a particular focus on online workshops.
Clodagh Guerin said: "The response to the programme has been overwhelming and it's fantastic that we get to work with such inspirational companies like Aoife Ireland who will be the first ambassador."
"We'll also be doing corporate workshops with certain members of the Labour Party, who have been key in kind of driving our message on a more political platform," Ms Guerin added.
Online workshops will address the language used around periods and how to abolish period taboo in the workplace. The workshops will also encourage companies to become more LGBTQ+ friendly.
The profits raised from this programme will also enable ATOTM to donate period products to those who need them most in society; particularly those living in direct provision and in homeless shelters around Ireland.
ATOTM also announced that there has been great support from politicians and for their secondary school programme.
Clodagh Guerin said: "Watching the TD Holly Cairns talk about our research into period poverty in the Dail for International Women's Day and to wear our logo was incredibly exciting and shows the great support for our campaign."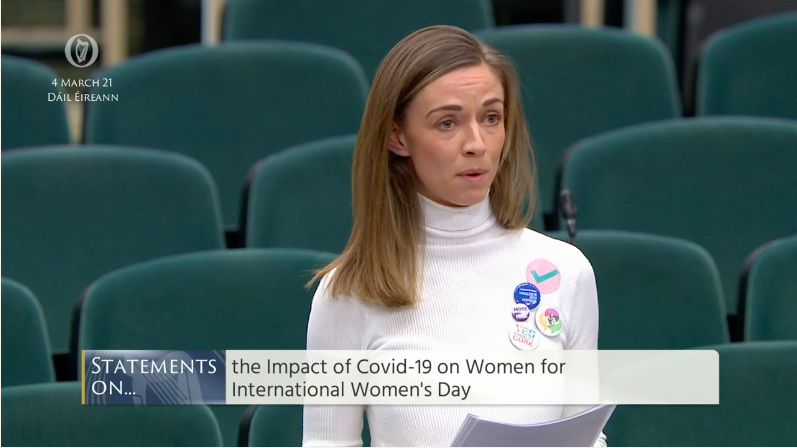 Jasmine from Anytime of the Month said, "No one deserves to be without proper sanitation products especially young teenagers but we know how incredibly difficult it can be to fund and thankfully with this programme the perception of periods, as a tactic for stigmatisation will become a thing of the past."
"These programmes are crucial for preventing period poverty in Ireland and if you find yourself or a workplace wanting to get involved, you can check out our social media @AnytimeoftheMonth or email us at info@anytimeofthemonth.com," she added.