An unofficial Bus Éireann strike caused severe disruption and cancellations across Limerick bus services this Tuesday afternoon.
According to the Bus Éireann website, the only service disrupted was the X12 (Limerick to Dublin Airport) with four cancellations.
However, there were further reports of delays in the 328 (Galbally to Limerick) and 304 (City Centre to University of Limerick) from Limerick citizens.
Bus Éireann apologised to customers in a statement on Twitter: "Bus Éireann very much regrets and is deeply concerned by the impact of this action on customers including short notice delays and major service cancellations."
In an interview with Limerick's Live 95FM on Monday morning, National Bus and Rail Union (NBRU) representative, Dermot Healy discussed upset amongst drivers following a roster change last Friday.
The NBRU claimed that the development infringed on the rights of an individual Limerick driver, and goes against a longstanding agreement between NRBU and Bus Éireann.
Healy said: "We will not be encouraging our members to engage in any action. There is no appetite amongst the staff to engage. Nobody wants to be denying people, certainly in these times, access to public transport."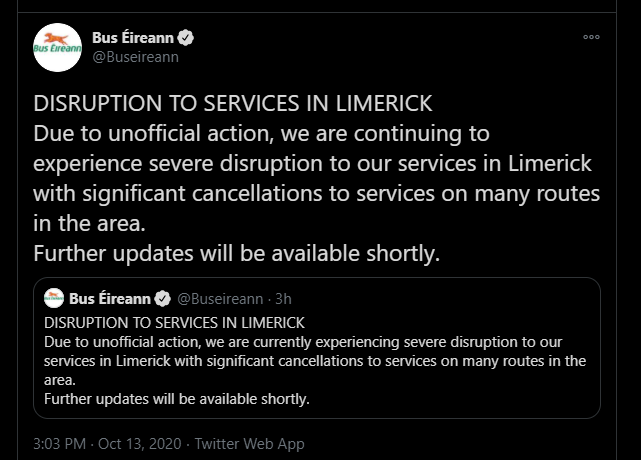 On Tuesday, Bus Éireann had been urging the use of recognised and agreed dispute resolution mechanisms.
Healy said: "We have informed management that we are not going to stand by and have our drivers trampled on, their rights trampled on. Unless Bus Éireann can resign from their current position, sit down and discuss the situation with us, I can't guarantee what's going to happen after that."
Limerick Voice reporters asked Limerick citizens what they thought of the strike;
7,299 total views, 4 views today